J&J Cue Bags
J&J Pro Cue Cases
Leather Cue Cases
Vincitore Cases
Vincitore Leather like Vinyl Cue Cases
These cases at Closeout Price now, limited quantity only.
Key Benefits
Best cue cases at this price range
Padded and lined rigid tubes for each butt and shaft inside
Very strong vinyl cue cases with soft inner to protect your prize cues
All cue cases come with shoulder strap & handles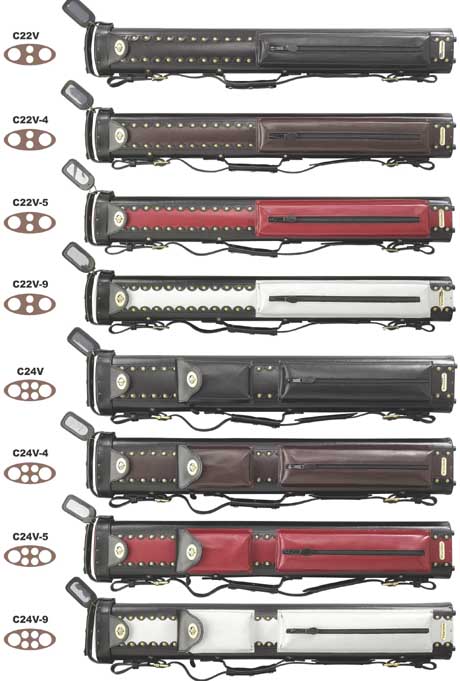 Pricing
Top to bottom. Click on the case for a clear picture.
| Item No. | Description | Retail price | Closeout Price |
| --- | --- | --- | --- |
| C22V | 2 butts 2 shafts, black | $120 | sold out |
| C22V-4 | 2 butts 2 shafts, black and brown | $120 | sold out |
| C22V-5 | 2 butts 2 shafts, black and burgundy | $120 | $70 |
| C22V-9 | 2 butts 2 shafts, black and white | $120 | sold out |
| C24V | 2 butts 4 shafts, black | $145 | sold out |
| C24V-4 | 2 butts 4 shafts, black and brown | $145 | sold out |
| C24V-5 | 2 butts 4 shafts, black and burgundy | $145 | sold out |
| C24V-9 | 2 butts 4 shafts, black and white | $145 | sold out |
Price and color are subject to change. Color of the stock cases may be slightly different from the picture.
Email us for update Onsale price for any cues or cue cases