J&J Cue Bags
J&J Pro Cue Cases
Leather Cue Cases
Key Benefits
Excellent for retail store, pool room, or club to display cues. Cue makers, cue dealers, cue collectors, or players to move or store their cues.
High quality exterior and interior material to protect the cues.
Unbeatable value in the market.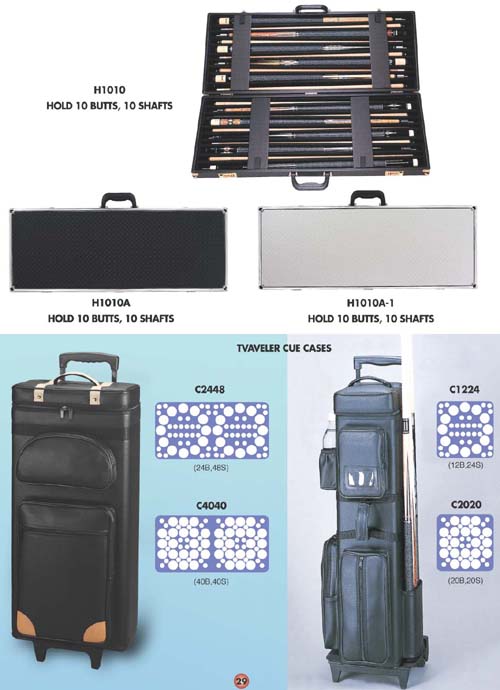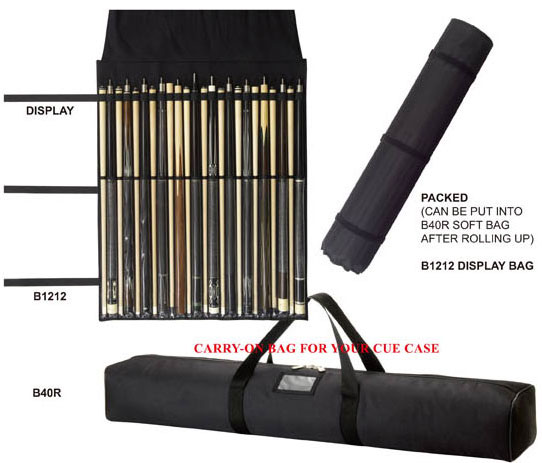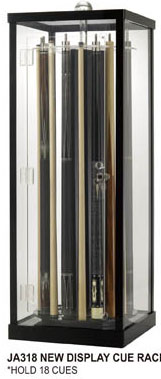 Pricing
Top to bottom. Click on the case for a clear picture.
| Item No. | Description | Suggest Retail Price | Special Price |
| --- | --- | --- | --- |
| H1010 | Display cue case, carry 10 butts 10 shafts, come with handle, & combination locks, black | $230 | $175 |
| H1010A | Display case, 10 butts 10 shafts, come with handle, & combination locks, black, Aluminum trim. | $250 | sold out |
| H1010A-1 | Display cue case, 10 butts 10 shafts, come with handle, & combination locks, silver, Alum. trim | $250 | sold out |
| C2448 | Rolling cue case, carry 24 butts & 48 shafts, foam-formed interior, quality vinyl exterior, with wheels, handle, pockets, lock, & a carry bag | $560 | $399 |
| C4040 | Rolling cue case, carry 40 butts & 40 shafts, foam-formed interior, quality vinyl exterior, with wheels, handle, pockets, lock, & a carry bag | $650 | $449 |
| C1224 | Rolling cue case, carry 12 butts & 24 shafts, foam-formed interior, quality vinyl exterior, with wheels, handle, pockets, lock, & a carry bag | $390 | $285 |
| C2020 | Rolling cue case, carry 20 butts & 20 shafts, foam-formed interior, quality vinyl exterior, with wheels, handle, pockets, lock, & a carry bag. On sale now | $470 | $349 |
| B1212 | Display rolling up bag, hold 12 cues, great for travel and display cues | $85 | $60 |
| B40R | Deluxe carry-on bag for cue cases, with lock | $60 | $48 |
| JA318 | Deluxe rotating display cue rack, hold 18 cues | $500 | $350 |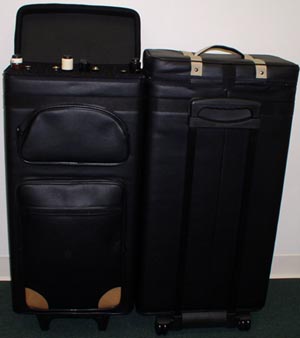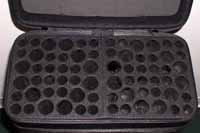 Click on the case for a clear picture.
Left: front view of C2448 . Middle: rear view of C4040. Right: inside top of C2448
C2448 - Rolling Dealer Cue Case
We at J&J America are proud to introduce a new large dealer case, C2448. It can carry 24 cues each with 2 shafts! Similar construction as our popular dealer case C1224 & C2020, this new case has foam-formed interior to keep cues in place and well protected. The exterior is quality vinyl, with two large zippered packets. Zipper open top with lock. Durable wheels and legs keep case stand securely upright. Extendable handle makes it comfortable to roll the case. Carry handle on top. Come with a carry bag for your convenience to store the case, or check in for airline.
Size: 35.5"x15.5"x10". Weight: 22 lbs
Suggest Retail Price: $560 Online Promotion Price: $399
C4040 - Rolling Dealer Cue Case
Similar case as C2448, this case can carry 40 cues each with 1 shaft.
Size: 35.5"x17.5"x11". Weight: 25 lbs
Suggest Retail Price: $650 Online Promotion Price: $449

Cues shown in the cue cases are not included.
Email us for update Onsale price for any cues or cue cases