J&J Cue Bags
J&J Pro Cue Cases
Leather Cue Cases
Key Benefits
Stand cue cases - Cue cases can stand up when holding the cues.
Strong, durable, with leather like quality exterior.
Individually lined tubes, or light weight satin dividers, with finest interiors to protect your valuable cues.
Some cases with springs loaded
Some models with Rolling Wheels
All cases come with large pouch, shoulder strap and handle.
Unbeatable value.
Click on the case for an enlarge picture
Cue Case with Stand, 2 Butts 4 Shafts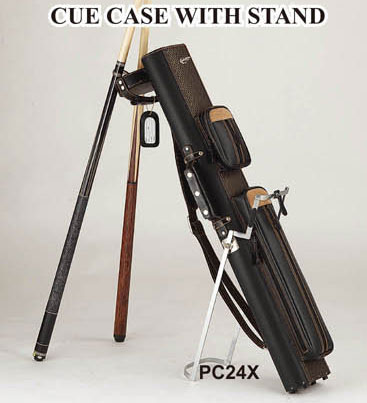 PC-24X Hold 2 butts 4 shafts, hard tubes, two pouches plus a jump cue pocket, two handles, and a comfortable shoulder strap
Retail price: $190, Online price: $155




PC-24Y Light weight stand case. Hold 2 butts 4 shafts, light weight satin dividers inside, two pouches, hard handle, shoulder strap
Retail price: $180, Online price: $150

Cue Cases with Stand, 3 Butts 5 Shafts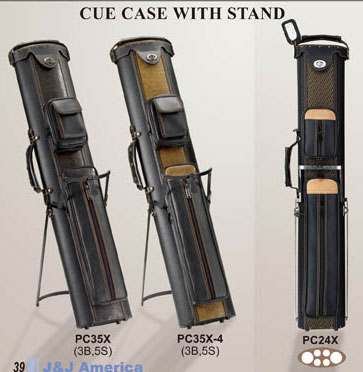 Inside view
PC35X & PC35X-4 Hold 3 butts 5 shafts, spring loaded hard tubes, two pouches plus a jump cue pocket, two handles, and a comfortable shoulder strap
Retail price: $225, Online price: $185

Cue Case with Stand, 4 Butts 6 Shafts





PC46X-E Pouch Base View Inside View
PC46X-E Hold 4 butts 6 shafts, light weight satin dividers inside, one large pouch with accessory pockets, two handles, and a comfortable shoulder strap
Retail price: $225, Online price: $180

Cue Cases with Stand and Rolling Wheels, 3 Butts 5 Shafts





PC35X-WL PC35X-4-WL Rolling Wheels Inside View
PC35X-WL & PC35X-4-WL Hold 3 butts 5 shafts, spring loaded hard tubes, two pouches plus a jump cue pocket, two handles, and a comfortable shoulder strap
Retail price: $250, Online price: $205

Cue Case with Stand and Rolling Wheels, 4 Butts 8 Shafts




PC48X-WF Rolling Wheels Inside View




PC48X-WF Hold 4 butts 8 shafts, spring loaded hard tubes, two pouches plus a jump cue pocket, two handles, and a comfortable shoulder strap
Retail price: $260, Online price: $210
Pricing
| Item No. | Description | Suggest Retail Price | Online Price |
| --- | --- | --- | --- |
| PC24X | 2 butts, 4 shafts, combo design, with stand* | $190 | $155 |
| PC24Y | 2 butts, 4 shafts, black design, with light weight stand | $180 | $150 |
| PC35X | 3 butts, 5 shafts, combo design, with stand | $225 | $185 |
| PC35X-4 | 3 butts, 5 shafts, combo design, with stand | $225 | $185 |
| PC46X-E | 4 butts 6 shafts, satin dividers inside, smooth with design, with stand | $225 | $180 |
| PC35X-WL | 3 butts, 5 shafts, combo design, with stand & Rolling Wheels | $255 | $205 |
| PC35X-4-WL | 3 butts, 5 shafts, combo design, with stand & Rolling Wheels | $255 | $205 |
| PC48X-WF | 4 butts, 8 shafts, smooth, with stand & Rolling Wheels | $260 | $210 |

*color of the stand is black, similar to the picture of PC35X
Price and color are subject to change. Color of the stock cases may be slightly different from the picture.
Email us for update Onsale price for any cues or cue cases