J&J Cue Bags
J&J Pro Cue Cases
Leather Cases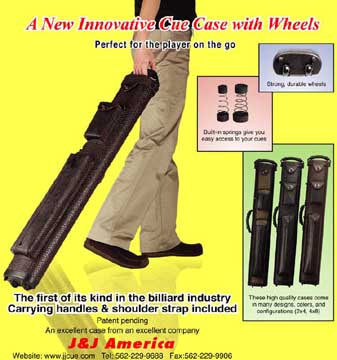 Key Benefits
J&J America is proud to be the first company to introduce this new and innovative case with wheels - The Wheel Cue Cases. With this rolling case, you don't need to worry about carrying your heavy case, cues and accessories. You save your energy to win your games. You don't have hassle with the common broken handle or broken shoulder strap problem happen in some other cue cases
Fashion design, high quality durable vinyl exterior (some people call it Ultra-Leather). Solid foam core tube interior with fine material to protect your cues. Cue can be stored butt and shaft joint up or down.
A built-in spring at bottom of each tube gives you easy access to your cue by press and pop the cue up, a great feature.
Case comes with two large pouches and a zipper jump cue compartment, which can store a jump cue handle.
For your convenience, heavy duty carrying handles and padded shoulder strap are included.
First in the market. Patent pending.
Three color combinations, and two configurations to choose from.
Unbeatable price. You pay price of a traditional PVC case, but get this totally new case with all these excellent features.
For cue cases with Wheels and Stand, another case made by J&J, please see Cases with Stand and Wheels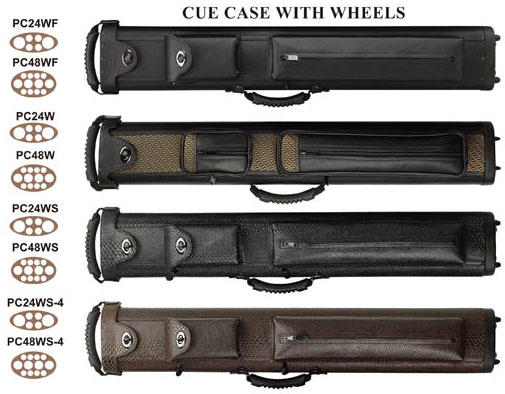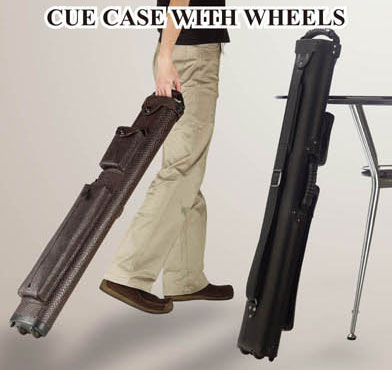 Click on the case for an enlarged picture.
The current stock of the PC48WS


Model # PCR48WS 4 butts 8 shafts
For most of the new cases IN STOCK, the wheels are at the front , not at the back. See photo:



Wheels at the front Inside view
Pricing
| Item No. | Description | Suggest Retail Price | Online Price |
| --- | --- | --- | --- |
| PCR24WF | Hold 2 butts 4 shafts, black smooth | $230 | $185 |
| PCR48WF | Hold 4 butts 8 shafts, black smooth | $300 | $240 |
| PC24W | Hold 2 butts 4 shafts, COMBO design | | Sold out |
| PC48W | Hold 4 butts 8 shafts, COMBO design | | Sold out |
| PCR24WS | Hold 2 butts 4 shafts, black | $240 | $190 |
| PCR48WS | Hold 4 butts 8 shafts, black | $310 | $250 |
| PCR24WS-4 | Hold 2 butts 4 shafts, brown | $240 | $190 |
| PCR48WS-4 | Hold 4 butts 8 shafts, brown | $310 | $250 |


Price and color are subject to change. Color of the stock cases may be slightly different from the picture.
Email us for update Onsale price for any cues or cue cases