J&J Cue Bags
J&J Pro Cue Cases
Leather Cases
Key Benefits
Strong, durable, light-weight, with high quality vinyl exterior
Individually lined tubes or satin-lined dividers with finest interiors to protect your valuable cues
All cases come with pouch, handle and shoulder strap
Unbeatable value.
Scroll down the page for price and more cue cases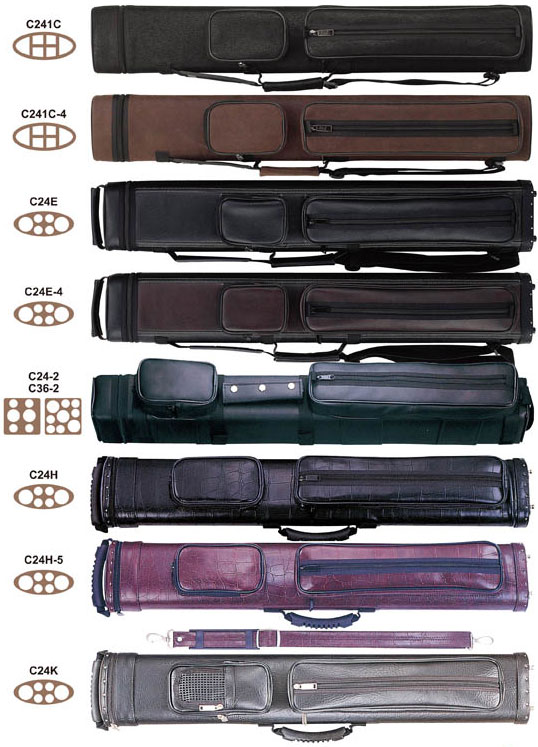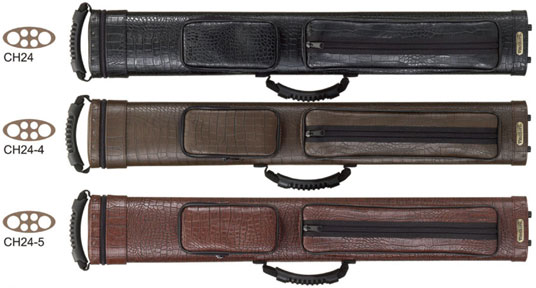 Side View of the CH24 (Comfortable side handle, large pouch with side pocket for jump cue)

Top View of the CH24 (Comfortable top handle, and durable shoulder strap)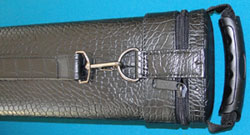 Inside View of the CH24 (Light weight lined fiber tubes all the way to the bottom)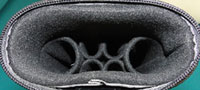 Pricing
top to bottom. Click on the case for a clear picture.
| Item No. | Description | Suggest Retail Price | Online Price |
| --- | --- | --- | --- |
| C241C | Hold 2 butts, 4 shafts, Angora, black, satin divider | $110 | $88 |
| C241C-4 | Hold 2 butts, 4 shafts, Angora, brown, satin divider | $110 | $88 |
| C24E | 2 butts, 4 shafts, black/black comb, oval, see Inside View | $135 | $110 |
| C24E-4 | 2 butts, 4 shafts, black/brown comb, oval type, | | sold out |
| C24-2 | Hold 2 butts, 4 shafts, square type, tubes | $110 | $90 |
| C36-2 | Hold 3 butts, 6 shafts, square type, tubes | $125 | $100 |
| C24H | 2 butts, 4 shafts, black, crocodile print, | | sold out |
| C24H-5 | 2 butts, 4 shafts, burgundy, crocodile print, | | sold out |
| C24K | 2 butts, 4 shafts, black, smooth, with cell phone pouch, tubes | $165 | $135 |
| CH24 | Vincitore case, 2 butts, 4 shafts, black, crocodile, light weight fiber tubes inside | $160 | $130 |
| CH24-4 | Vincitore case, 2 butts, 4 shafts, brown, crocodile, light weight fiber tubes inside | $160 | $130 |
| CH24-5 | Vincitore case, 2 butts, 4 shafts, burgundy, crocodile, light weight fiber tubes inside | $160 | $130 |



Model # C24R
This is a 2 butts 4 shafts case, traditional design, hard shell, satin dividers inside, with 2 pouches, handle and shoulder strap
Retail Price $82, Online price $65



Model # C24A
This is a combo case original designed by J&J. 2 butts 4 shafts, hard foam inside, see shaft foam tubes, might have spring loaded at the bottom of each tube. with 2 pouches and jump cue pocket, handle and shoulder strap
Retail Price $150, Online price $120



Model # C36-2
This is a 3 butts 6 shafts case, square shape, hard shell, hard foam inside, might have spring loaded at the bottom of each tube. with 2 pouches and jump cue pocket, handle and shoulder strap
Retail Price $125, Online price $100
Price and color are subject to change. Color of the stock cases may be slightly different from the picture.
Email us for update Onsale price for any cues or cue cases