J&J Cue Bags
J&J Pro Cue Cases
Leather Cue Cases
This page lists some of our new case models.
Key Benefits
Strong, durable, light-weight, with leather like quality vinyl or leatherette exterior.
Individually lined tubes or Satin-lined dividers inside for the 2 butts 4 shafts cases. Light weight satin-lined dividers for the 3 butts 5 shafts cases.
All cases come with shoulder strap and with handles.
Unbeatable value.
Click on the case for an enlarged picture. Scroll down the page for more cue cases




Model # C34ND
J&J case, black nylon, hold 3 butts 4 shafts, Thick satin dividers inside, with 3 pouches and jump cue pocket, top and side comfort handles, double shoulder straps with shoulder pads. It is a strong and high quality case.
See more photo of Side View, Top Handle, Shoulder Pads
Retail Price $170, Online price $136




Model # C48ND
J&J case, black nylon, hold 4 butts 8 shafts, Thick satin dividers inside, with 3 pouches and jump cue pocket, top and side comfort handles, double shoulder straps with shoulder pads. It is a strong and high quality case.
See more photo of Side View, Top Handle, Shoulder Pads
Retail Price $210, Online price $168



Model # CDS-35
Vincitore case, black leatherette, hold 3 butts 5 shafts, light weight solid lined tubes inside, with 3 pouches and jump cue pocket, top and side comfort handles, double shoulder straps with shoulder pads.
See more photo of Top Handle,
Retail Price $250, Online price $200



Model # CDS-48
Vincitore case, black leatherette, hold 4 butts 8 shafts, light weight solid lined tubes inside, with 3 pouches and jump cue pocket, top and side comfort handles, double shoulder straps with shoulder pads.
See more photo of Top Handle,
Retail Price $270, Online price $220




Model # CR25
Vincitore case, black, durable nylon like material exterior, hold 2 butts 5 shafts, light weight solid lined tubes inside, with 3 pouches, top and side handles, shoulder strap with shoulder pad. Should strap can be mounted on the back or on the side.
See more photo of Top Handle, Side Handle and Shoulder Pad, Case Bottom
Retail Price $230, Online price $190



Model # CR25-G
Vincitore case, grey, durable nylon like material exterior, hold 2 butts 5 shafts, light weight solid lined tubes inside, with 3 pouches, top and side handles, shoulder strap with shoulder pad. Should strap can be mounted on the back or on the side.
See more photo of Top Handle, Side Handle and Shoulder Pad, Case Bottom
Retail Price $230, Online price $190



Model # CR25-R
Vincitore case, red, durable nylon like material exterior, hold 2 butts 5 shafts, light weight solid lined tubes inside, with 3 pouches, top and side handles, shoulder strap with shoulder pad. Should strap can be mounted on the back or on the side.
See more photo of Top Handle, Side Handle and Shoulder Pad, Case Bottom
Retail Price $230, Online price $190



Model # C22R
This is a 2 butts 2 shafts case, traditional design, hard shell, satin dividers inside, with 2 pouches, handle and shoulder strap
Retail Price $55, Online price $45



Model # C24R
This is a 2 butts 4 shafts case, traditional design, hard shell, satin dividers inside, with 2 pouches, handle and shoulder strap
Retail Price $69, Online price $55



Model # C35R
This is a 3 butts 5 shafts case, traditional design, hard shell, satin dividers inside, with 2 pouches, handle and shoulder strap
Retail Price $89, Online price $70



Model # C48R
This is a 4 butts 8 shafts case, traditional design, hard shell, satin dividers inside, with 2 pouches, handle and shoulder strap
Retail Price $110, Online price $88



Model # C22W
This is a 2 butts 2 shafts case, Stylish design, satin dividers inside, with 2 pouches, comfortable handle and shoulder strap, see Handle & Strap
Retail Price $90, Online price $75




Model # C22S
This is a deluxe 2 butts 2 shafts case, Stylish design, satin dividers inside, with 2 pouches, handles and shoulder strap
Retail Price $180, Online price $150




Model # C24U
Stylish design, hold 2 butts 4 shafts, satin dividers inside, with 2 pouches, comfortable handle and shoulder strap, see Handle and Strap
Retail Price $170, Online price $140




Model # C241B 2 butts 4 shafts, light weight satin dividers ( inside view ), 2 large pouches. leatherette with embroidery . come with 2 handles, and shoulder strap.
Regular price $180, Sale price: $150




Model # C241B-4 2 butts 4 shafts, light weight satin dividers ( inside view ), 2 large pouches. leatherette with embroidery . come with 2 handles, and shoulder strap.
Regular price $180, Sale price: $150




Model # C241JS 2 butts 4 shafts, light weight satin dividers, 2 large pouches. leatherette with decal. come with 2 handles, and shoulder strap. See Top part Inside
Regular price $190, Sale price: $155



Model # C351JS 3 butts 5 shafts, light weight satin dividers, 2 large pouches. leatherette with decal. come with 2 handles, and shoulder strap. See Top part
Regular price $210, Sale price: $170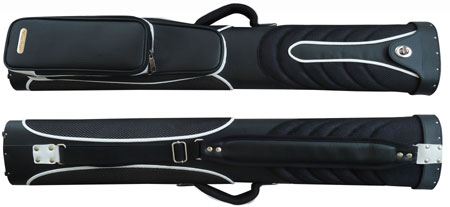 Model # C24Q
Vincitore case, Stylish design, hold 2 butts 4 shafts, satin dividers, with 2 pouches, comfortable handle and shoulder strap
Retail Price $195, Online price $160
Model # C35Q
Stylish design, hold 3 butts 5 shafts, satin dividers, with 2 pouches, comfortable handle and shoulder strap
Retail Price $210, Online price $175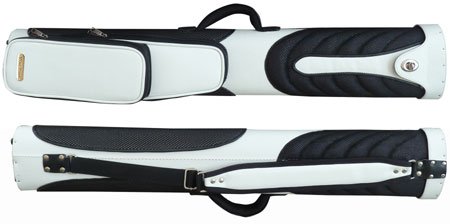 Model # C24Q-10
Vincitore case, Stylish design, hold 2 butts 4 shafts, satin dividers, with 2 pouches, comfortable handle and shoulder strap
Retail Price $195, Online price $160
Model # C35Q-10
Stylish design, hold 3 butts 5 shafts, satin dividers, with 2 pouches, comfortable handle and shoulder strap
Retail Price $210, Online price $175



Model # C35NY
Vincitore case, durable nylon like material exterior, hold 3 butts 5 shafts, light weight solid lined tubes inside, with 2 pouches and jump cue pocket, 2 handles, and shoulder strap
Retail Price $160, Online price $130



Model # C35NY-3
Vincitore case, durable nylon like material exterior, hold 3 butts 5 shafts, light weight solid lined tubes inside, with 2 pouches and jump cue pocket, 2 handles, and shoulder strap
Retail Price $160, Online price $130



Model # C35NY-5
Vincitore case, durable nylon like material exterior, hold 3 butts 5 shafts, light weight solid lined tubes inside, with 2 pouches and jump cue pocket, 2 handles, and shoulder strap
Retail Price $160, Online price $130





PC-24Y Case with Light weight stand. Hold 2 butts 4 shafts, light weight satin dividers inside, two pouches, hard handle, shoulder strap
Retail price: $195, Online price: $160

Soft Cue Bag


Model # B24R
Nice cue bag, hold 2 butts 4 shafts, thick soft interior. Jean exterior with 1 large pouch. Comes with handle and shoulder strap. see inside
Retail Price $75, Online price $58


Model # B23
Nice cue bag, hold 2 butts 3 shafts, thick soft interior. Durable nylon exterior with pockets and jump cue pouch. Comes with handle and shoulder strap. see Inside
Retail Price $90, Online price $72


Model # B24
Nice cue bag, hold 2 butts 4 shafts, thick soft interior. Black vinyl exterior with 2 pouches and jump cue pocket. Comes with handle and shoulder strap. see inside
Retail Price $100, Online price $80


Model # B24C
Deluxe cue bag, hold 2 butts 4 shafts, hard shell with thick soft interior. Black crocodile leatherette exterior with 2 pouches and jump cue pocket. Comes with handle and shoulder strap. see inside
Retail Price $135, Online price $110


Model # B24D
Deluxe cue bag, hold 2 butts 4 shafts, thick soft interior. Black nylon exterior with 3 pouches and jump cue pocket. Comes with handle and shoulder strap. see inside
Retail Price $140, Online price $115


Model # B24W
Deluxe cue bag, hold 2 butts 4 shafts, thick soft interior. Nylon exterior with 2 pouches. Comes with carry handle. see inside
Retail Price $165, Online price $138



Model # B35M
Nice cue bag, hold 3 butts 5 shafts, thick soft interior. Black leatherette exterior with 2 pouches, top and side handles, shoulder strap with shoulder pad. see inside
Retail Price $150, Online price $125



Model # B48D
A very nice cue bag, hold 4 butts 8 shafts, thick soft interior. Black leatherette exterior with 3 pouches, comfort carry handle, double shoulder straps with comfort shoulder pads. see inside, Side View
Retail Price $200, Online price $160





Model # B24S
Deluxe hard cue bag, hold 2 butts 4 shafts, thick soft interior, 3 accessories pockets. Black leatherette exterior. Come with comfort handle and shoulder strap. see inside
Retail Price $230, Online price $185, only one available


Price and color are subject to change. Color of the stock cases may be slightly different from the picture.
Email us for update Onsale price for any cues or cue cases