Production Cues
Mezz Cues
Custom Cues
Key Benefits
Buy with confidence: All of our Mezz cues are brand new & directly from Mezz Cues in Japan.
Special sales, save up to 20% off regular price. These Mezz cues are some of the discontinued models, or closeout models, that we sell at discount price. When the cues at this page sold out, we will not have these cues.
Bonus: Free deluxe joint protector and Free pro cue case per request, when you buy any of the Mezz cues at online price. Limited time only.
All Mezz cues at this page are brand new cues, never used, never chalked
Some cues might already sold out. Please email us to make sure we still have the cue in stock.
Click on the cue for a clear picture and cue description.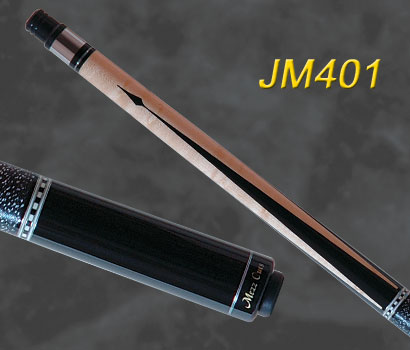 Model # JM401 Mezz Maple cue with 4 points, fancy rings,, WD700 shaft, United joint.
Retail price: $720 Closeout Price: $580. only one cue available. Not make more.
To upgrade the shaft to a Hybrid Pro shaft or other Mezz shaft, or to add a Mezz shaft to the cue, please see the Mezz Shafts page , email us for the special price.


Model # CJ101 Mezz cue with WD700 shaft, Wavy joint. Birdseye maple, Compositewood, Juma
Retail price: $650 sold
Stock & price are subjected to change. Discount available on certain condition. Email us for detail.
*Free cue case style and value vary.