Production Cues
Panther Cues
Custom Cues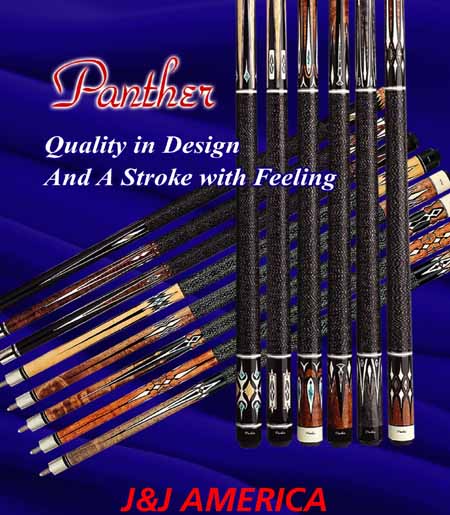 Panther Cues feature in excellent designs, CMC points, inlays, and much more.
Some of our Panther cues almost sold out. Order one before it gone. It is at sale price now!
Custom cues made by a famous cue factory.
Fancy, high quality cues with inlays, points, at unbelievable price. All materials are the best. These cues play excellent.
Uniloc, 5/16X14 or 5/16x18 Steel joint. Custom finish. Some cues come with
*2 shafts
Guarantee these are the best valued custom cues. Similar cues from other distributors will cost you up to $600 and only come with one shaft. For some of our cues, our price already including an extra shaft.
Panther Cues 2010 2010 models, price $200 - $300
Panther Cues 2009 High-Tech Grip, Uniloc, Price $175 and up
Panther Cues 2012 2012 models, price $120 - $160
Panther Cues 2013 2013 models, price $120 - $260
Panther Cues Series 1 Price: $250 - $350
Panther Cues Series 2 Price: $250 - $350