Schon Cues LTD are limited edition Schon cues, designed and made by Schon Cues in the USA, now are exclusively distributed by J&J America. They are made only in small quantity. Normally less than 12 cues per design.
Schon Cues STL are Schon standard cues. J&J America resell these Schon cues at lowest price. We can match or beat any publish price from an authorized Schon dealer
Schon Cues On Sale are some Schon cues you can save up to 20% off
Most of the Schon cues are in stock ready to ship
Email us for extra discount available.

We stock the OB made shafts and Predator made shafts to fit the Schon cues.
We also stock the Schon made OB and Predator shaft for the Schon cues. The Schon made shafts installed with the Schon joint and will have a better fit for the Schon cues.
When upgrade the shaft please mention which shaft you prefer.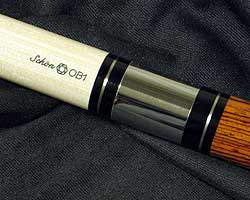 OB1 or OB2, Classic or Pro shaft with a matching Schon joint, made by Schon Cues
Retail price $275, Our Special Price: $225
Upgrade from a Schon shaft, $65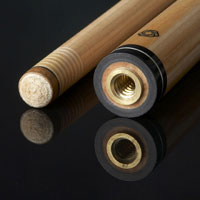 OB1 or OB2 shaft fits the Schon cue, made by OB Cues
Retail price $235, Our Special Price: $199.75
Upgrade from a Schon shaft, $45


Predator 314-2 shaft with a matching Schon joint, made by Schon Cues
Retail price $310, Our Special Price: $260
Upgrade from a Schon shaft, $110


Predator Z-2 shaft with a matching Schon joint, made by Schon Cues
Retail price $310, Our Special Price: $260
Upgrade from a Schon shaft, $110
Predator made 314-2 or Z-2 shaft for Schon cues
Retail price $275, Our Special Price: $233.75
Upgrade from a Schon shaft, $90